Free/Reduced Price Meal Applications

APPLYING FOR FREE AND REDUCED PRICE MEALS
 TWO EASY WAYS TO APPLY!! 
Applications for the 2020/21 School Year are now available.
YOU MAY APPLY ONLINE, print meal apps to mail or email,
OR
PICK UP A PAPER APPLICATION FROM THE SCHOOL SITE OFFICES ONCE REOPENED AND VISITORS ARE ALLOWED.
---
Submit a Paper Application: Paper applications and instructions are available in the Analy office or at the Analy Food Court.  Link to download 2020-2021 printable Meal Application, Instructions, and Letter to the Household in English and Spanish below:
2020-2021 ENGLISH Free and Reduced Price Meal Application
2020-2021 SPANISH Free and Reduced Price Meal Application

Apply Online at nlappscloud.com: Save paper and time by applying online! Online applications will be accepted starting

July 20, 2020.

Applying online is safe, secure and private. 
                 

Application processing can take up to  10 business days.
---
Families with eligibility in the 2019/20 school year:  
If your student was eligible for free or reduced-price meals in the 19-20 school year, their eligibility will extend to the first 30 operating days of the 20/21 school year. This 30 day grace period will end on September 25, 2020. YOU MUST APPLY EACH SCHOOL YEAR TO CONTINUE PARTICIPATION. Since new applications can take up to 10 days to process, be sure to submit your student's new meal application AS SOON AS POSSIBLE to ensure no interruption in their free or reduced-price meal pricing, if eligible.
Familias con elegibilidad en el año escolar 2019/20:
Si su estudiante era elegible para recibir comidas gratis o de precio reducido en el año escolar 19-20, su elegibilidad se extenderá a los primeros 30 días de funcionamiento del año escolar 20/21. Este período de gracia de 30 días finalizará el 25 de septiembre de 2020. DEBE APLICAR CADA AÑO ESCOLAR PARA CONTINUAR LA PARTICIPACIÓN. Dado que las nuevas solicitudes pueden demorar hasta 10 días en procesarse, asegúrese de enviar la nueva solicitud de comidas de su hijo TAN PRONTO COMO SEA POSIBLE para garantizar que no se interrumpa su precio de comida gratis o de precio reducido, si es elegible.
---
***ATTENTION: Parents of students new to the District applying for free or reduced price meals (including incoming freshmen):
Be sure to send a lunch, check or cash, prepay online at myschoolbucks.com or place money on their student's meal account in the cafeteria for the first day of school and until the application is approved. Eligibility for free or reduced-price meals does not begin until the application is processed and approved, a this can take up to 10 days. If your student received free/reduced priced meals in the  19-20 school year and you have not received notice of temporary eligibility by August 7, 2020, please notify Food Service Coordinator to ensure 30-day temporary eligibility. If you were eligible in a different school district, please share that districts 19/20 eligibility letter with the food service department to ensure continued eligibility 
Asegúrese de enviar un almuerzo, cheque o efectivo, pagar por adelantado en línea en myschoolbucks.com o depositar dinero en la cuenta de comida de su estudiante en la cafetería el primer día de clases y hasta que se apruebe la solicitud. La elegibilidad para comidas gratis o de precio reducido no comienza hasta que la solicitud se procesa y se aprueba, esto puede demorar hasta 10 días. Si su estudiante recibió comidas gratis / a precio reducido en el año escolar 19-20 y no ha recibido un aviso de elegibilidad temporal antes del 7 de agosto de 2020, notifique al Coordinador del Servicio de Alimentos para garantizar la elegibilidad temporal de 30 días. Si era elegible en un distrito escolar diferente, comparta la carta de elegibilidad de ese distrito 19/20 con el departamento de servicio de alimentos para garantizar la elegibilidad continua
---
For More Information Contact: Ryanesha Warren, Food Services Coordinator at 707-824-6419 Email: rwarren@wscuhsd.org
---

CalFresh is a supplemental nutrition program that helps households increase their ability to buy healthy foods so that all Californians have enough to eat. Parents can apply for CalFresh benefits for their children even if everyone in the family may not qualify with the Sonoma County Human Services Department.
Additional community based resources for food or other assistance dial/click 2-1-1 sponsored by
CalFresh es un programa de nutrición suplementaria que ayuda a los hogares a aumentar su capacidad de comprar alimentos saludables para que todos los californianos tengan suficiente para comer. Los padres pueden solicitar los beneficios de CalFresh para sus hijos, incluso si todos los miembros de la familia no califican con el Departamento de Servicios Humanos del Condado de Sonoma.
Recursos adicionales basados ​​en la comunidad para alimentos u otra asistencia marcar / hacer clic 2-1-1
---
Non-Discrimination Statement                                                    
In accordance with Federal civil rights law and U.S. Department of Agriculture (USDA) civil rights regulations and policies, the USDA, its Agencies, offices, and employees, and institutions participating in or administering USDA programs are prohibited from discriminating based on race, color, national origin, sex, disability, age, or reprisal or retaliation for prior civil rights activity in any program or activity conducted or funded by USDA.
Persons with disabilities who require alternative means of communication for program information (e.g. Braille, large print, audiotape, American Sign Language, etc.), should contact the Agency (State or local) where they applied for benefits. Individuals who are deaf, hard of hearing or have speech disabilities may contact USDA through the Federal Relay Service at (800) 877-8339.  Additionally, program information may be made available in languages other than English.
To file a program complaint of discrimination, complete the USDA Program Discrimination Complaint Form, (AD-3027) found online at:  http://www.ascr.usda.gov/complaint_filing_cust.html, and at any USDA office, or write a letter addressed to USDA and provide in the letter all of the information requested in the form. To request a copy of the complaint form, call (866) 632-9992. Submit your completed form or letter to USDA by:
(1)   mail: U.S. Department of Agriculture
Office of the Assistant Secretary for Civil Rights
1400 Independence Avenue, SW
Washington, D.C. 20250-9410;
(2)   fax: (202) 690-7442; or (3)  email: program.intake@usda.gov.
This institution is an equal opportunity provider.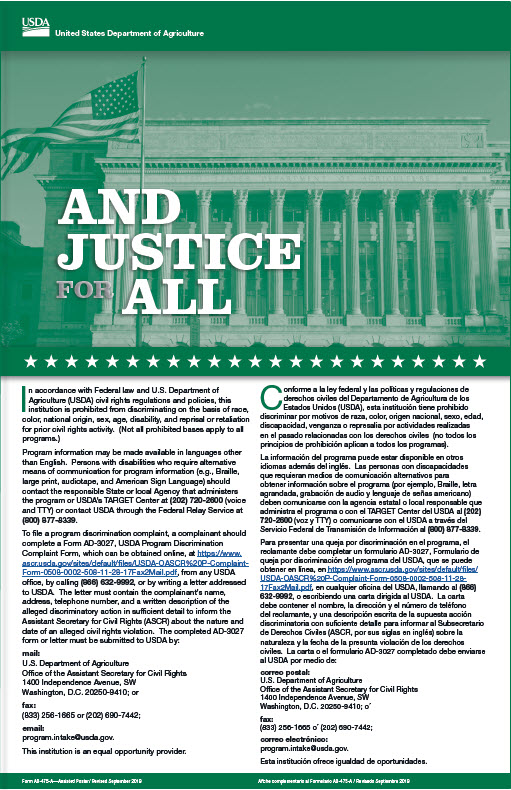 En Español
De conformidad con la Ley Federal de Derechos Civiles y los reglamentos y políticas de derechos civiles del Departamento de Agricultura de los EE. UU. (USDA, por sus siglas en inglés), se prohíbe que el USDA, sus agencias, oficinas, empleados e instituciones que participan o administran programas del USDA discriminen sobre la base de raza, color, nacionalidad, sexo, discapacidad, edad, o en represalia o venganza por actividades previas de derechos civiles en algún programa o actividad realizados o financiados por el USDA.
Las personas con discapacidades que necesiten medios alternativos para la comunicación de la información del programa (por ejemplo, sistema Braille, letras grandes, cintas de audio, lenguaje de señas americano, etc.), deben ponerse en contacto con la agencia (estatal o local) en la que solicitaron los beneficios. Las personas sordas, con dificultades de audición o discapacidades del habla pueden comunicarse con el USDA por medio del Federal Relay Service [Servicio Federal de Retransmisión] al (800) 877-8339. Además, la información del programa se puede proporcionar en otros idiomas.
Para presentar una denuncia de discriminación, complete el Formulario de Denuncia de Discriminación del Programa del USDA, (AD-3027) que está disponible en línea en: http://www.ocio.usda.gov/sites/default/files/docs/2012/Spanish_Form_508_Compliant_6_8_12_0.pdf. y en cualquier oficina del USDA, o bien escriba una carta dirigida al USDA e incluya en la carta toda la información solicitada en el formulario. Para solicitar una copia del formulario de denuncia, llame al (866) 632-9992. Haga llegar su formulario lleno o carta al USDA por:
(1)        correo: U.S. Department of Agriculture
Office of the Assistant Secretary for Civil Rights
1400 Independence Avenue, SW
Washington, D.C. 20250-9410;
(2)       fax: (202) 690-7442; o
(3)        correo electrónico: program.intake@usda.gov.
Esta institución es un proveedor que ofrece igualdad de oportunidades.