About Our Food Service Program
WSCUHSD will offer breakfast and lunch daily to all enrolled students beginning August 13, 2020. Meal pick/up schedules and updates are based on school opening plans.
During times of Distance Learning models, drive through meal pick up service will be available for student or parent/guardian pick up.
We encourage all families to complete the 2020/21 school year meal application if you do not receive notification of eligibility prior to the first day of school. At this time we are unable to offer all meals for free so meal prices will be reflected based on eligibility.
Breakfast

– 

$2.00 paid non-eligible,  $0.30 reduced price, Free for free eligible students
Lunch

– $3.50 paid non-eligible, $0.40 reduced price, Free for free eligible students.
UPDATED PAPER APPLICATIONS FOR 2020/21 SCHOOL YEAR ARE NOW AVAILABLE UNDER THE APPLICATIONS TAB.
Please check this site regularly for updates
---
Applications submitted prior to July 15, 2020 are still being processed based on Ca.gov communications.    
If you have questions regarding the suspension of onsite instruction, food service or other items related to the COVID-19 outbreak, please email info@wscuhsd.org.
---
If additional food needs arise for families please check the below Redwood Empire Food Bank link for a list of Groceries to Go pick up locations.
---
WSCUHSD ofrecerá desayuno y almuerzo todos los días a todos los estudiantes matriculados a partir del 13 de agosto de 2020. 
Los horarios y las actualizaciones de recogida de comidas se basan en los planes de apertura de la escuela.
Durante los tiempos de los modelos de aprendizaje a distancia, el servicio de recogida de comidas estará disponible para que lo recojan los estudiantes o padres / tutores.
Alentamos a todas las familias a completar la solicitud de comidas del año escolar 2020/21 si no reciben una notificación de elegibilidad antes del primer día de clases. En este momento no podemos ofrecer todas las comidas gratis, por lo que los precios de las comidas se reflejarán en función de la elegibilidad.
Desayuno

– $ 2.00 pagado no elegible, precio reducido de $ 0.30, Gratis para estudiantes elegibles gratis
Almuerzo

– $ 3.50 pagado no elegible, precio reducido de $ 0.40, Gratis para estudiantes elegibles gratis.
APLICACIONES DE PAPEL ACTUALIZADAS PARA EL AÑO ESCOLAR 2020/21 AHORA ESTÁN DISPONIBLES BAJO LA PESTAÑA DE APLICACIONES.
Por favor revise este sitio regularmente para actualizaciones
---
SI SOLICITÓ BENEFICIOS DE P-EBT …
Las solicitudes enviadas antes del 15 de julio de 2020 todavía se están procesando según las comunicaciones de Ca.gov.
Si tiene preguntas sobre la suspensión de la instrucción en el sitio, el servicio de alimentos u otros artículos relacionados con el brote de COVID-19, por favor envíe un correo electrónico a info@wscuhsd.org.
---
The Analy Food Service Department believes that healthy bodies make healthy minds. Our food service program is designed to support the education of the students at all school sites by providing nutritious, well-balanced meals for our community to enjoy– at a reasonable price they can afford.
Our staff believes that the students should have access to nutritious meals each and every day. We strive to create and provide wholesome and tasty food to not only meet USDA and State nutritional guidelines, but appeal to our customer base and food interests. We all enjoy what we do each and every day.
Meals are served to students through the federally funded United States Department of Agriculture (USDA) National School Lunch and School Breakfast Programs during the regular school year and summer school. These meals are planned based on USDA Dietary Guidelines for Americans (DGA).
---
Non-Discrimination Statement
In accordance with Federal civil rights law and U.S. Department of Agriculture (USDA) civil rights regulations and policies, the USDA, its Agencies, offices, and employees, and institutions participating in or administering USDA programs are prohibited from discriminating based on race, color, national origin, sex, disability, age, or reprisal or retaliation for prior civil rights activity in any program or activity conducted or funded by USDA.
Persons with disabilities who require alternative means of communication for program information (e.g. Braille, large print, audiotape, American Sign Language, etc.), should contact the Agency (State or local) where they applied for benefits. Individuals who are deaf, hard of hearing or have speech disabilities may contact USDA through the Federal Relay Service at (800) 877-8339.  Additionally, program information may be made available in languages other than English.
To file a program complaint of discrimination, complete the USDA Program Discrimination Complaint Form, (AD-3027) found online at:  http://www.ascr.usda.gov/complaint_filing_cust.html, and at any USDA office, or write a letter addressed to USDA and provide in the letter all of the information requested in the form. To request a copy of the complaint form, call (866) 632-9992. Submit your completed form or letter to USDA by: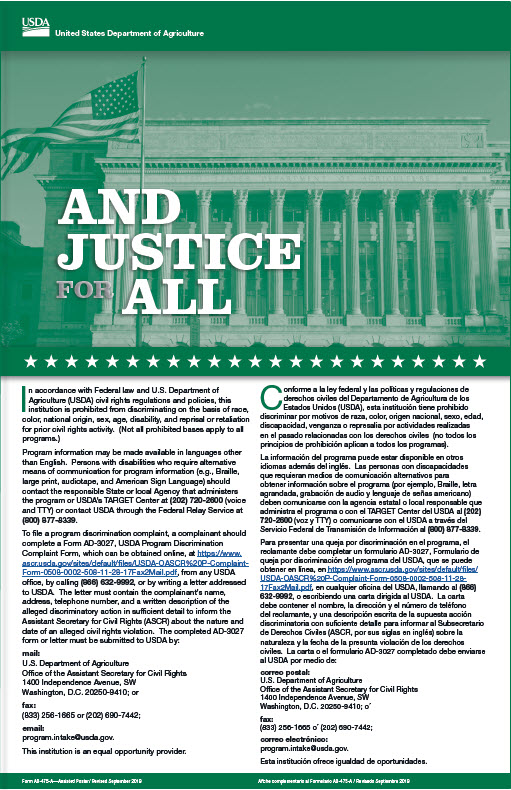 (1)   mail: U.S. Department of Agriculture
Office of the Assistant Secretary for Civil Rights
1400 Independence Avenue, SW
Washington, D.C. 20250-9410;
(2)   fax: (202) 690-7442; or (3)  email: program.intake@usda.gov.
This institution is an equal opportunity provider.
En Español
De conformidad con la Ley Federal de Derechos Civiles y los reglamentos y políticas de derechos civiles del Departamento de Agricultura de los EE. UU. (USDA, por sus siglas en inglés), se prohíbe que el USDA, sus agencias, oficinas, empleados e instituciones que participan o administran programas del USDA discriminen sobre la base de raza, color, nacionalidad, sexo, discapacidad, edad, o en represalia o venganza por actividades previas de derechos civiles en algún programa o actividad realizados o financiados por el USDA.
Las personas con discapacidades que necesiten medios alternativos para la comunicación de la información del programa (por ejemplo, sistema Braille, letras grandes, cintas de audio, lenguaje de señas americano, etc.), deben ponerse en contacto con la agencia (estatal o local) en la que solicitaron los beneficios. Las personas sordas, con dificultades de audición o discapacidades del habla pueden comunicarse con el USDA por medio del Federal Relay Service [Servicio Federal de Retransmisión] al (800) 877-8339. Además, la información del programa se puede proporcionar en otros idiomas.
Para presentar una denuncia de discriminación, complete el Formulario de Denuncia de Discriminación del Programa del USDA, (AD-3027) que está disponible en línea en: http://www.ocio.usda.gov/sites/default/files/docs/2012/Spanish_Form_508_Compliant_6_8_12_0.pdf. y en cualquier oficina del USDA, o bien escriba una carta dirigida al USDA e incluya en la carta toda la información solicitada en el formulario. Para solicitar una copia del formulario de denuncia, llame al (866) 632-9992. Haga llegar su formulario lleno o carta al USDA por:
(1)        correo: U.S. Department of Agriculture
Office of the Assistant Secretary for Civil Rights
1400 Independence Avenue, SW
Washington, D.C. 20250-9410;
(2)       fax: (202) 690-7442; o
(3)        correo electrónico: program.intake@usda.gov.
Esta institución es un proveedor que ofrece igualdad de oportunidades.